The contribution of own ideas supports the further development of own interests.
Through regular talks between supervisors and employees, we identify the talents of each employee and support these with individual development plans.
Our flat hierarchies allow quick decisions. Each employee assumes responsibility and actively contributes to the dynamic environment and success of the company.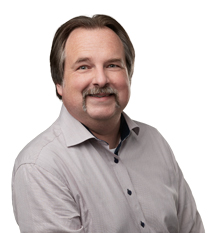 Embedded Engineering
Thomas Schüler has been a part of the team since the founding of Mixed Mode. After having gained many years of experience as a developer, he took over project and division management in 2002 and is also involved in various research and funding projects.

"We rely on sustainability: Our colleagues bundle their knowledge and pass it on among one another. We offer them many opportunities to get involved and further their education. Many have discovered us because we publish professional articles. If you are interested, you can also hold Expert Sessions in front of customers or conduct so-called TechTalks with colleagues".
Software Test & Quality
Thomas Müller joined Mixed Mode in 2007 through project work and, in the course of time, he took on more organisational and management roles, before becoming Head of Division in 2011.
"Our colleagues have the opportunity to get to know the complete V-model in various projects. Through changing topics, technologies and tasks, and the work always remains exciting. Every supervisor knows his employee personally and always asks how the project is going and how the employee is enjoying it - the working atmosphere and dealings among one another is very familiar at Mixed Mode."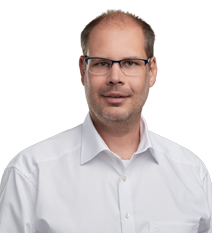 Application Engineering
Tobias Russ already started here as a working student and wrote his diploma thesis at Mixed Mode. First he developed customer applications on FPGA platforms and carried out consulting projects. He has been a team leader for application software development since 2013. His main focus is on Microsoft applications, Qt and mobile technologies.
We take our employees' ideas and suggestions seriously.
We bundle our know-how and knowledge and promote professional exchange among one another.
Our experts advise and support our projects on specific specialist topics.
We give every employee - from junior staff to professionals - the opportunity to expand and deepen his or her know-how.
We do our job with passion
We share a passion for our profession, new technologies and exciting projects.
We are driven to be better than others. To achieve this, we rely on the passion of our employees. They are allowed to and also supporting to contribute their ideas in discussions with colleagues and superiors. Every employee is an active part of Mixed Mode's success.
Everyone contributes his or her part - in development projects, certifications and training courses or the preparation and presentation of technical lectures. The writing of professional articles and the support of graduate workers, including mentoring, also allow individual development for each employee.